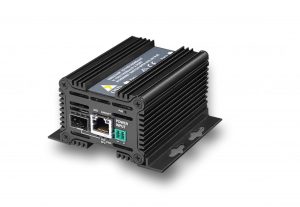 OSD has just released its latest industrial grade Gigabit Ethernet switch, the OSD2184P. This is a 3-port (2 copper, 1 optical) unit offering Power over Ethernet which not only meets the latest IEEE802.3bt PoE specification but also supports older devices requiring IEEE802.3af/at or HDBase-T (PoH). Each of the two RJ45 ports is capable of providing 90W of power with a total power budget of 170W thus enabling operation with the latest PoE devices such as IP cameras, wireless access points and microwave links. The extremely compact OSD2184P can be easily mounted inside a network cabinet or smart pole located in any environment owing to its rugged IP30 casing, efficient thermal design and -40 to +75°C operating temperature range.
Two versions are available: the OSD2184P operating from 46 to 57VDC and the OSD2184PW operating from 12VDC to 57VDC.
For more details please download datasheet in the products page or contact sales@osd.com.au
This product is designed and manufactured by OSD in NSW, Australia.